Frogger Cartridges
There are several versions of Frogger, more than the majority of other Parker Brothers games except maybe Star Wars: Empire Strikes Back. Most of these variations are with the mold and spring. Below are the 4 versions of where the cartridge was made. This is located at the bottom of the back of the cartridge. There is a blank version with no made in, Hong Kong, Taiwan, and Malaysia. There is a possibility of others, maybe a Singapore version like Star Wars: ESB has, but I've yet to find one.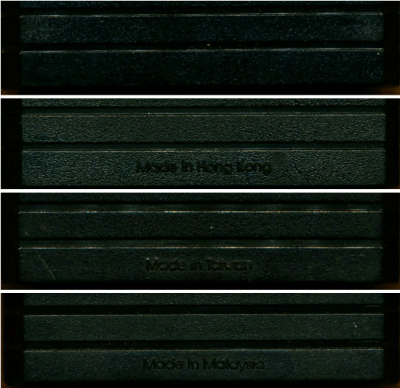 Besides the mold, Hong Kong also has a gold sticker that says "passed QCQA"
. We put no rarity difference between the one with the sticker and the one without, since a sticker can be removed to create a non-sticker version.
version a)* U ©1982, silver picture label, CART: made in Taiwan, spring
version b)* U ©1982, silver picture label, CART: made in Hong Kong, spring
version c)* U ©1982, silver picture label, CART: made in Hong Kong, spring, label "passed QCQA"
version d)* C ©1982, silver picture label, CART: made in Malaysia, spring
version e)* C ©1982, silver picture label, CART: no "made in XXX", spring
version f)
*

R

©1982, silver picture label, CART: no "made in XXX", no spring
NOTE: versions a, b, c, d, e & f have the same main and end labels, but the cartridge itself is different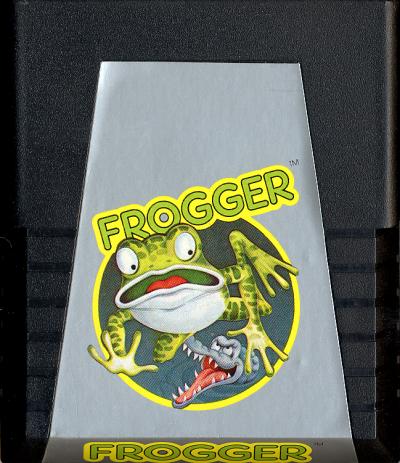 version g)* R ©1982, silver picture label, CART: spring?, ML: "P" on top, PAL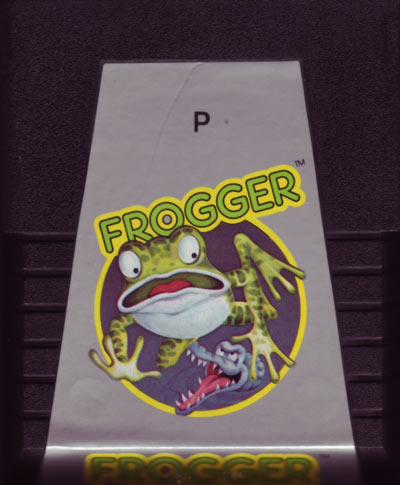 version h)
*

R

©1982, silver picture label, ML: "Parker" at top, spiral logo below that, with "Wellbekannt durch MONOPOLY" under it, main label and end label are separate, CART: square cart, grips on side, black bar on back (German version)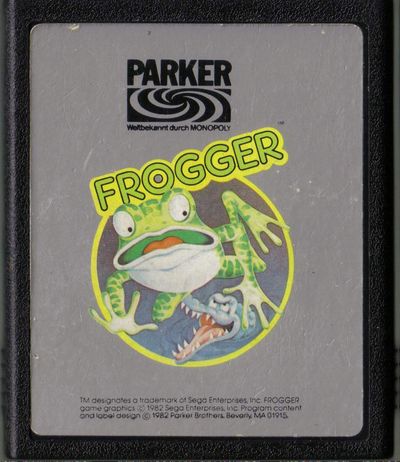 version i)* R ©?, silver picture label, CART: spring?, ML: sticker: Parker Bros. spiral logo with "Wellbekannt durch MONOPOLY" under it, PAL, (German version)